Battery-powered fastening tools are becoming mainstream, and the new cordless designs have made battery-operated tools more powerful and flexible.
Portability is still the primary reason more installers are adopting battery-powered fastening tools. Portable tools have always been a logical fit for spot repairs or applications that call for occasional use. Now, portable tools can be used on the job for extended periods, whether at a construction site, in a shop setting, or for applications such as installing solar panels. The ability to use a single type of installation tool means installers need to keep track of fewer tools on jobsites, and fewer tool repairs are needed.
More professionals are adopting this new generation of portable tools because they are designed for more applications. Since they have more power, they can be used to install larger rivets and fasteners. And manufacturers are offering a wider range of nose assemblies in larger sizes.
Portable rivet tools also boost productivity. Batteries are becoming lighter, more compact, and more powerful, and the tools are more lightweight. Lighter tools can be used for more extended periods with less fatigue to workers. Standardized battery systems make it easier to swap batteries between different tools and have batteries on hand, charged, and ready to go. Charging systems are more efficient, so batteries can be recharged quickly.
One of the greatest advantages of portable fastening tools is their ease of use. Hydraulic and pneudraulic tools require specialized training to balance the power systems to the application and ensure that compressors are working correctly and hoses are connected. For heavy-duty applications such as construction, using pneumatic systems in the field can require specialists on-site to set up and repair compressors and tool sets, which increases both downtime and expenses. With battery-powered tools, no training is required. You simply install a fresh battery and the right nose assembly and go to work.
Portable tools are less expensive than hydraulic systems. Even the most powerful and sophisticated battery-operated tools are three-quarters the cost of low-end pneumatic tools. Battery-powered tools tend to be more reliable, and using fewer, less-expensive tools that won't break down means saving time and money.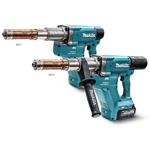 Howmet Aerospace and Huck recently launched these first-of-its-kind cordless lockbolt tools. Check them out!
With all these benefits, it's no wonder portable fastening tools are being used for more applications, including:
Field repairs:

Whether it's a quick repair to a truck, railroad car, boat, or some other application, more power and versatility make battery-powered tools ideal for spot repairs in almost any situation.

Construction:

For projects where power access can be a problem, battery-powered tools offer a logical solution. Not only do the batteries mean these tools are untethered from a power source, but their portability also makes them easier to use in hard-to-reach places.

Factory assembly:

More battery-powered tools are finding their way to the assembly line. Portable tools do the same job as hydraulic or pneumatic tools, and they also make the workplace safer by eliminating hoses that can create a hazard.

Solar installations:

The boom in solar power has opened a new field of applications for rivets and lockbolts. Portable fastening tools are ideal for rooftop solar installations because they require no specialized training.
The added versatility of portable power tools makes it easier to use rivets and lockbolts almost anywhere.