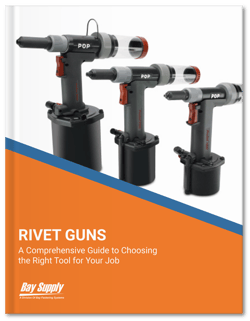 Rivets are the quiet heroes of nearly every industry. They provide secure fastening for both light- and heavy-duty applications on everything from gutters to automobiles, aircraft, and submarines. But the wide array of applications for rivets means you need specialized tools to properly affix them.
Enter the rivet gun.
Rivet guns must fit the needs of the job and industry in which they are used. The type of rivet gun you choose will depend largely on the volume of rivets you need to set, as well as the location where you're working. Additionally, you need a gun that fits your budget constraints, needed ergonomics, durability requirements, and more.
In this e-book, you'll learn about:
The types of rivet guns available for your application
The typical use cases for each type of rivet gun
Considerations for each rivet gun before purchase
How to avoid common pitfalls and misuse
Repair and maintenance of your rivet gun

Download your copy of Rivet Guns: A Comprehensive Guide to Choosing the Right Tool for Your Job today!